View Paid and Unpaid Opportunities
For organizations seeking to employ or utilize the volunteer talents of New Yorkers 50+, please click here.

Score New York City has Two Volunteer Opportunities
SCORE NYC is an all-volunteer nonprofit organization that offers free business counseling and low-cost seminars to the community of NYC small businesses. 
Administrative Volunteer
26 Federal Plaza,Manhattan
31st floor,
room 3100
We are seeking administrative volunteers to support our not for profit organization that mentors small businesses and start-ups.Our website is www.scorenyc.org.
We provide a structured experience in a busy office environment and can tailor the experience to permit the volunteer to sit in on our educational workshops and to join experienced mentors in mentoring sessions with clients. Thus they can also gain valuable experience of what's involved in starting and running a small business and gain valuable network connections.
In addition,the volunteer will be engaged with certain administrative responsibilities that may include assisting with workshop preparation and registration,responding to client inquiries and assisting the mentors.
Qualifications
We seek individuals who can consistently commit to 15 hours per week at our downtown office in lower Manhattan-26 Federal Plaza and is expected to cover a period of at least 3 months.
Please forward your resume to humanresources@scorenyc.org
Volunteer Assistant Treasurer 
26 Federal Plaza, NYC
The Assistant Treasurer will work closely with the Treasurer of the SCORE NYC Chapter to successfully perform various treasury management duties and analyzing financial records.
Length of Employment: This is an unpaid position; it may require over six months of commitment.
Time Commitment: Month-end work requires 6-8 hours and needs to be performed on-site working with the Chapter Treasurer.  Other than month-end work, average weekly time is 2-4 hours. Other duties can be performed remotely.
Key Job Responsibilities:
Work on-site at the main office location once a week to process mail and prepare checks

Review all incoming invoices and code expenses for QuickBooks General Ledger

Ensure monthly checks are ready for signature by Chapter Chairperson

Monitor daily PayPal transactions including receipts, refund requests and disputes

Prepare monthly reconciliations of bank and PayPal accounts

Prepare suggested journal entries based upon reconciliations

Operate treasury in line with existing accounting procedures
Qualifications and Preferred Skills:
Have hands on experience in financial controlling and budgeting

Proficient in working with computers

Familiarity with Quickbooks online, Paypal and Constant Contact is helpful

Ability to handle a large volume of numeric data

Proper organizational and time management skills

Extensive knowledge of accounting and legal laws, rules and procedures pertaining to governing body

Reliable, honest, trustworthy and unbiased
Support Provided:   You will have 2 weeks of orientation at the main office location. In addition, you will have unlimited free access to all our events and seminars.
Please forward your resume to humanresources@scorenyc.org and indicate in your email that you are responding to a Coming of Age NYC listing.
 Ollie's Place Cat Adoption Center
Volunteer Cat Caregiver and Housekeeper
Location: 430 East 9th St (East Village)
Seeking mature active volunteers 50+ to help care for our cats, includes cleaning housing, litterboxes, general housekeeping and socializing. Additionally, this position would involve mentoring teens doing community service.
We have multiple shifts as follows:
Weekday Mornings 8:30 AM – 11:00 AM
Weekday Evenings 5:00 PM – 7:30 PM
Weekday Closing from 7:00 PM – 9:00 PM
Saturday 8:00 AM – 10:30AM, 10:00 AM – 12:30 PM, 12:00 PM – 2:30PM, 2:00 PM – 4:30 PM, and 4:00 PM – 7:00 PM
Sunday 9:00 AM – 11:30 AM, 10:00 AM – 12:30 PM, 12:00 PM – 2:30 PM, 2:00 PM – 4:30 PM, and 4:00 PM – 7:00 PM
Not all shifts are available at all times
Expiration Date: 12/31/2017
Qualifications: Prefer cat experience, and no allergies. Comfortable working with diverse groups and able to direct others as needed.
How to Apply: Send a brief detailed email about your experiences, and your preferred availability.
Contact Email: Opsked@gmail.com 
JASA (Jewish Association Serving the Aging) has several volunteer opportunities
Office Volunteer – JASA Brooklyn Caregivers Respite Program
161 Corbin Pl., Brooklyn, NY 11235
Assist JASA's Brooklyn Caregiver Respite Program with key administrative tasks.
Responsibilities:
Skills:
Comfortable using a copy machine

Have a good general knowledge of computer operations including internet applications and Microsoft Office

Ability to work independently and as part of a team

Good organizational skills and the ability to prioritize and manage multiple tasks

Strong communication skills

Patience
Other:
Flexible scheduling is available with a minimum commitment of one day a week

Ongoing opportunity

Maintain professional behavior at all times and adhere to JASA's volunteer policies
How to Apply: Email volunteer@jasa.org to express interest. Please indicate in your subject line which position you are interested in. Include that you learned about the opportunity from Coming of Age NYC.
Selfhelp Queens North Friendly Visiting Program
The Friendly Visitor Program matches homebound seniors with volunteers in the community who make weekly visits in the seniors' homes. Friendly visiting helps relieve the senior's social isolation and is an enriching opportunity for the volunteer to develop a meaningful friendship. Seniors and the volunteer can take part in fun activities like playing card games, discussing current events, sharing stories, learning/teaching new skills, and celebrating special days in the lives of the seniors. Your time and companionship as a friendly visitor is invaluable!
Matches are based on your availability and geographic location.
Expiration Date: 9/30/2020
We ask for a minimum commitment of six months of weekly hour-long visits. Volunteers must be 18 years or older. Interview, training, references and background check are required.
Please contact Christella Tuldanes (Friendly Visiting Program Coordinator) if interested in this volunteer opportunity by emailing friendlyvisiting@selfhelp.net or calling at (718)321-8194.

NYC Department for the Aging has several volunteer opportunities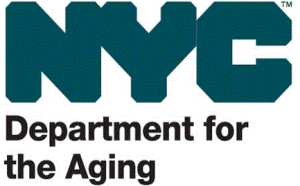 2 Lafayette Street, New York, NY 10007
The New York City Department for the Aging (DFTA) is the largest Area Agency on Aging (AAA) in the United States with more than 35 years of experience addressing the needs of older New Yorkers. Among DFTA's functions are: overseeing and supporting a network of senior centers, case management agencies, and home delivered meal providers; managing contracts with providers that offer these core services as well as other DFTA-funded programs such as Naturally Occurring Retirement Communities and elder abuse prevention initiatives; conducting innovative research and evaluating programs that serve New York's older adult population; conducting legislative advocacy; and educating the public about aging issues.
The Volunteer Resource Center was launched in 2014 by the NYC Department for the Aging to promote, increase, and strengthen volunteerism, civic engagement, and community service for the Agency's programs that provide vital supports and services for NYC seniors. Click here to view current volunteer opportunities with DFTA.
Please take a moment to complete the Volunteer Interest Form. If you have any questions, feel free to contact the Volunteer Resource Center at volunteer@aging.nyc.gov or 212-602-4464, Monday through Friday, between 10:00am and 6:00pm.

Love technology? Senior Planet Exploration Center has Four Volunteer Opportunities
Class Assistant — The class assistant helps Senior Planet trainers to lead a formal course on technology for senior planet members. Trainers serve as primary instructors while the class assistant helps students that fall behind the pace of the class to get back on track. You may also be asked to assist with tracking attendance, reach out to students that are absent, or manage equipment distribution in the class. Classes generally meet twice a week for for 10 weeks and attendance in each class is crucial. This volunteer position is ideal for someone with tutoring or teaching experience that is relatively comfortable with most commonly used technology products.
Data Entry/Clerical Assistant — The data entry/clerical assistant helps to ensure that keep track of our membership and registration information at the Center. In this role, you are responsible for entering the data from new membership forms into our online database as well as keeping track of RSVP's for special events and workshops. You may also be asked to assist with filing or serve as a backup for the greeter. This volunteer position is ideal for someone who is detail oriented and who is relatively comfortable using the internet
Tech Talk Host – The tech talk host leads a 20 minute one-on-one conversation related to technology with visiting members at the Center. In this role, you assist a member to accomplish a technology-related goal for the session based on their existing knowledge and our tech talk guidelines. The ability to manage expectations and redirect members to other technology related resources is critical as tech talks are not meant to be prolonged tutoring sessions or computer repair consults. This volunteer position is ideal for someone that is relatively comfortable with most commonly used technology products and also skilled at communicating about them in a cogent manner.
Greeter – The greeter is the first point of contact our visitors have with the Center. In this role, you are responsible for welcoming each new visitor, articulating our mission and services, ensuring that visitors sign in and comply with our House Rules, and helping to answer phone and e-mail inquiries. This volunteer position is ideal for someone with customer service experience or who has a natural ability to relate to people. We ask that volunteers commit to at least one shift per week. Volunteer shifts are on weekdays and most last for 4 hours, from 8:30am – 12:30pm or from 12:30pm – 4:30pm.
Location: 127 W. 25th Street, New York NY
How to Apply:
Submit a letter of interest via e-mail The first step to becoming a Senior Planet volunteer is to submit a letter of interest via e-mail to volunteer@seniorplanet.org. Let us know a little bit about yourself and your experience, and why you want to volunteer at the Center.

Interview with a Senior Planet staff member Once we review your letter of interest via e-mail, we'll contact you to schedule a one-on-one interview with a Senior Planet staff member. The purpose of this interview is to find the right volunteer placement for you at Senior Planet and to answer your questions.

Attend a Volunteer training In some cases, the volunteer opportunities at Senior Planet require initial training and may include other commitments as well. You can find out more about this during your interview with a Senior Planet staff member.
Contact Email: volunteer@seniorplanet.org