Upcoming Events
For non-profit organizations: to post an event of interest to New Yorkers 50+, please click here and fill out an event submission form.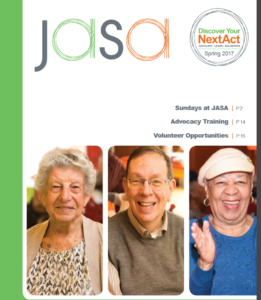 Click image for Sundays at JASA 2017 Spring Catalog
You're Invited!!
Join us on February 23rd for a Unique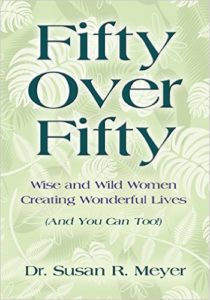 Social Networking Panel Featuring Four
Wise and Wild Women Creating Wonderful Lives at 50+
Hear what four women over fifty have done to create vibrant, full lives after leaving their full-time jobs. Travel, building a business, becoming a tour guide and being a community activist are just a few things these women are up to. They share stories about their wise, wild and wonderful lives and discuss next steps you can take to create your own.
Moderator:
Dr. Susan R. Meyer is the author of Fifty Over Fifty: Wise and Wild Women Creating Wonderful Lives (And You Can Too!) and How to ZAP Your Obstacles to Create Your Success. She left a career in organizational and staff development at 50 to create a successful coaching and consulting practice; and, past 70, she coaches, travels and writes.
Panelists:
Loretta Donovan, executive coach and community leader, can be found at the cutting edge of leadership, organizational development and strategy. Formerly a Chief Learning Officer, she oversaw management, development, employee engagement, and regulatory and clinical training in the IT, human services and healthcare sectors until her recent retirement. She juggled full-time employment, raising three children, doing volunteer work–including outstanding service to the Association of Junior Leagues International–that earned her recognition as one of their top 100 volunteers at its centennial.
Carole Wehberg was a writer and communications executive at Avon before creating her own marketing communications business. She managed all this as a single parent, raising a legally blind son who is now a successful attorney. She has recently retired from a position with a high-end French travel organization and continues as a tour guide at Lincoln Center. With Susan, she's creating exciting adventures for women over fifty who want a memorable experience as they plan the next phase of their lives.
Estella Pate has three degrees in music education and musicology all of which have enabled her to teach music in Connecticut and Arizona, to serve as a Curator of Education at the Brooklyn Children's Museum, and as Director of Foundation Relations at a wide variety of national organizations. These have included the American Lung Association, American Cancer Society, Big Brothers Big Sisters NYC, the Legal Aid Society and the Franciscan Sisters of the Poor Foundation to name a few. All of this, in turn, has led to her retirement career as grant-writing consultant for a wide variety of disciplines.
5:30 to 7:30 PM
65 Broadway – 12th Floor
Light refreshments will be served. The event is free, but space is limited and pre-registration is required. To register, email pramsden@pssusa.org or call 646-918-6123 (Ext. 22) for more information.
Please bring a photo id with you for building entry.