SEPTEMBER NETWORKING SOCIALS
Posted on September 26, 2017 by Coming of Age in Past Events.

RETIRED?
NEED MORE MONEY?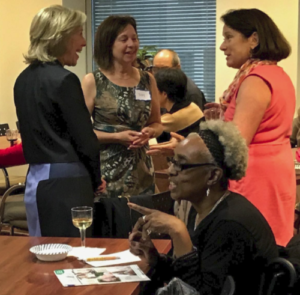 Guest speaker, Nancy Collamer, semi-retirement coach, author of "Second-Act Careers:50+ Ways to Profit From Your Passions During Semi-Retirement" and founder of the popular website MyLifestyleCareer.com, dazzled us with an array of creative ideas to offset the financial crunch.
Nancy has coached countless people to feel happier and more secure in retirement. Do you want to continue working during retirement or supplement your retirement income or keep active and engaged or slash your bills?  She shared inspirational success stories and provided concrete advice about how you can profit from your professional expertise, passions and personal interests in retirement.