Past Events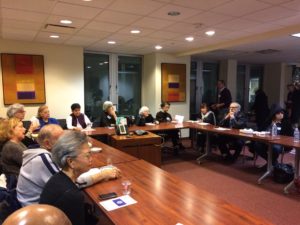 December Radical Aging Social
Dr. Steve Burghardt, co-founder of the Radical Age Movement and CUNY Professor of Social Work, 
 discuses the need for this movement which seeks to build an intergenerational movement dedicated to confronting and eradicating age discrimination and its impact on older adults in all areas of cultural, professional, and community life.
Scott E. Weiner, Ph.D. and Certified Hypnotist facilitated his popular Rapid Relief Stress Reduction Workshop. Participants learned easy one-minute self-help techniques to let go of stressful thoughts, relax rapidly, and proactively prevent stress. See: www.ScottEWeiner.com.
October Social with Emerging Aging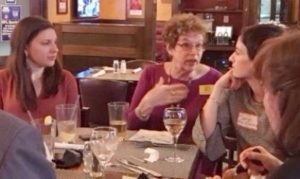 Stimulating discussion over drinks at Carragher's Pub on October 30, 2017, gave Coming of Age NYC members and younger "emerging professionals" working in the field of aging a great opportunity to get to know one another and brainstorm ways we can be of mutual support. Discussion question: Is New York City truly an Age-Friendly City, or do we have a long way to go? "Yes" to both questions, but we also need to strive to be an "All-Age Friendly City!"
SEPTEMBER NETWORKING SOCIALS
RETIRED?
NEED MORE MONEY?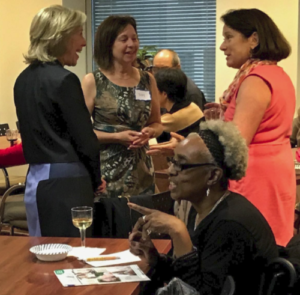 Guest speaker, Nancy Collamer, semi-retirement coach, author of "Second-Act Careers:50+ Ways to Profit From Your Passions During Semi-Retirement" and founder of the popular website MyLifestyleCareer.com, dazzled us with an array of creative ideas to offset the financial crunch.
Nancy has coached countless people to feel happier and more secure in retirement. Do you want to continue working during retirement or supplement your retirement income or keep active and engaged or slash your bills?  She shared inspirational success stories and provided concrete advice about how you can profit from your professional expertise, passions and personal interests in retirement.
ON NOVEMBER 7,
WHICH SIDE WILL YOU TAKE?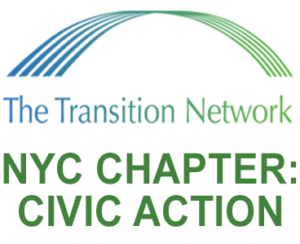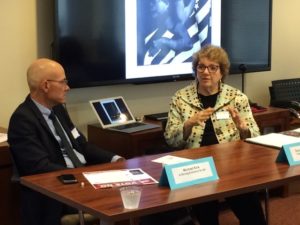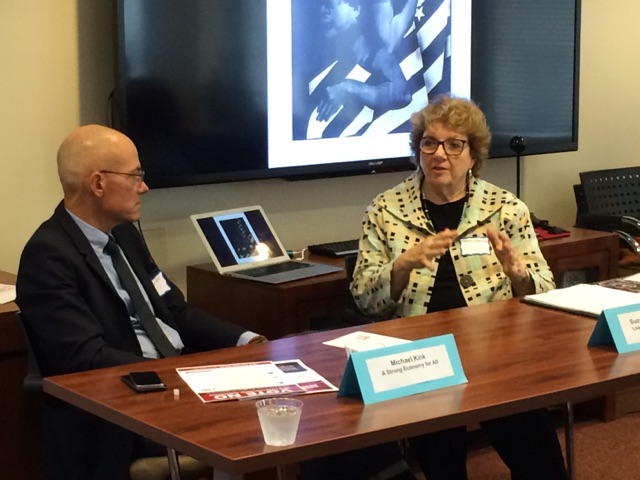 Coming of Age and members of the Civic Action unit of The Transition Network's NYC Chapter joined together for a spirited discussion for NYC voters of the pros and cons of holding a convention to amend the NYS Constitution. The New York State Constitution mandates that every 20 years voters be presented with the ballot question
Presenters: Suzanne Stassevitch from the League of Women Voters NYC addressed a YES vote; and Michael Kink, Executive Director at Strong Economy for All, argued for a NO vote.
The League believes a convention could help reform and modernize voting laws and the court system, establish effective ethics enforcement in state government, facilitate fair legislative redistricting, and strengthen the state's bill of rights.A NO vote argues that a Constitutional Convention could jeopardize the fundamental rights of New Yorkers–particularly public employees and public retirees–who might lose protection against reductions in public pension benefits. Other issues might be vulnerable to revision, such as those regarding reproductive rights.
JULY 2017 NETWORKING SOCIAL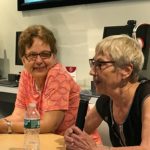 Attendees enjoyed refreshments, socializing and a lively forum at the spacious Senior Planet headquarters and had a chance to see what this innovative center has to offer. OATS Director of Technology and Training, Alex Glazebrook showed how technology can empower, change the way we age and connect us to family, friends, and the digital world. Moderated by Aaron Santis, Program Manager at Senior Planet in Chelsea, the forum included first-hand accounts from happy users of technology who shared stories of how "connected" they have become. Check out this video about the networking social.
JUNE 2017 NETWORKING SOCIAL
Featuring Speaker & Author of This Chair Rocks: ASHTON APPLEWHITE!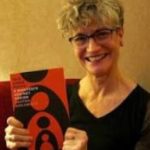 Dynamic author, speaker, and advocate addressed "one of the most persistent biases of our day (ageism) with originality, verve and humor" (quotes Marc Freedman, CEO of Encore.org). In 2016 she earned PBS' Next Avenue's annual list of 50 Influencers in Aging as its Influencer of the Year. And you'll want to read her vibrant, energetic, fact-filled book: This Chair Rocks, found on her website of the same name. Click here to view the entire conversation with Ashton Applewhite.
MAY 2017 Networking Social
Jeri Sedlar, Co-Author of "Don't Retire, Rewire!"
and Ed Ryan, Passionate Volunteer & Active Advocate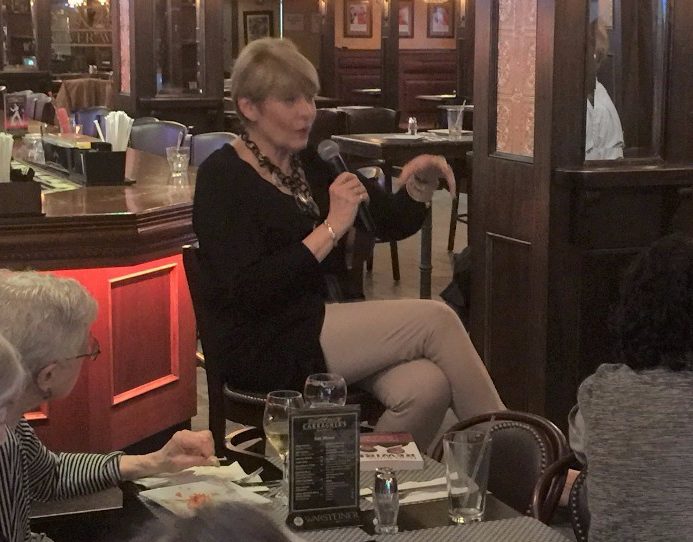 Our speakers inspired an attentive audience at Carragher's NYC pub on May 12. Jeri opened with a challenge to identify your passion and marry it with a meaningful activity–be it an encore career, a volunteer opportunity or an avocation you put off in your earlier years. Ed followed with creative ways to put your time and talents to purposeful commitments, using his own personal examples of serving AARP on the local, state and national level as well as the UN NGO Committee on the family. It was truly a fun and uplifting evening!
Explore Your Future Workshop Series December 2016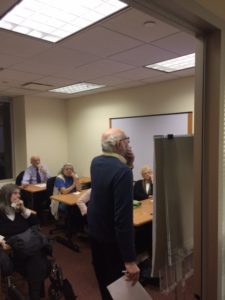 Facilitator Stuart Singer kicked off the last of our workshop series for 2016. Participants enjoyed our new "digs" at 65 Wall Street.  "I liked [the facilitator's] energy and enthusiasm — a good role model for being engaged in life who showed clarity of thought and caring of participants, and was informative and wonderful," said a participant.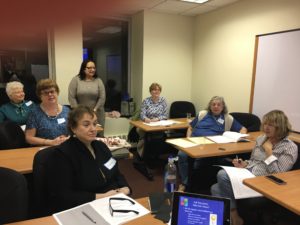 PSS Deputy Director Katherine Martinez facilitated the second session of the December workshop series. *The workshop taught me how to look at myself, my past, and my strengths in the context of how I want to look at the future," commented a participant. Stay tuned for announcements of Explore Your Future Workshop Series in 2017.
Living with Passion & Purpose: A Conversation with Eileen Fisher held at the The New York Public Library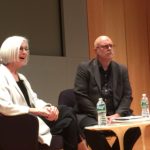 A full house on May 11, 2016 enjoyed the first in our "Conversations With . . ." Series. We hosted entrepreneur and fashion icon Eileen Fisher who shared life experiences and goals that exemplify COA NYC's mission of building communities of people over 50 living with passion and purpose.
To view the whole event join us on our Facebook page here.
Explore Your Future Workshop
A NYC governmental agency hosted an Explore Your Future workshop series for its employees. Pictured here is facilitator Stuart Singer leading a session.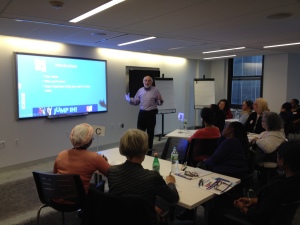 AARP Networking Event
We had a wonderful networking event at AARP New York's headquarters. Attendees had the chance to socialize and hear a presentation by Dionne Polite on AARP's "Life Reimagined" program.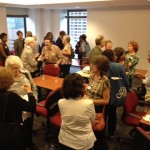 Purpose and Fulfillment in Mid- and Later Life : Can It Be Found Online?
People age 50 and older want to continue leading rich, meaningful and satisfying lives. Can the internet contribute to that pursuit? On March 6th we heard from experts on the websites, resources and applications available online – all designed to enhance our experiences in connecting with others, travel, sharing special interests, romance, lifelong learning and employment. Attendees came away with a rich array of tips, tools and resources for a more engaged and fulfilling life. This presentation was co-sponsored by Coming of Age NYC and The New York Public Library. Click here for Directory of Internet Resources.
This Chair Rocks: How Ageism Warps Our View of Long Lives
COA NYC members enjoyed a talk + conversation with writer and activist Ashton Applewhite about why the more you know about old age, the better it looks—and why most Americans don't know it. Our May Social Event was hosted by COA NYC Partner Community Service Society. Ashton Applewhite is the voice of Yo Is This Ageist and has been writing about ageing and ageism since 2007 at This Chair Rocks. During this period, she's become a Knight Fellow, a New York Times Fellow, and a Columbia Journalism School Age Boom Fellow.
In March, Coming of Age NYC hosted a very successful "Capturing the Energy" workshop for volunteer managers and other nonprofit staff. Almost 50 professionals from 30 different nonprofits attended the two-day workshop (which was funded by NYC Service) to learn how to better recruit and maintain volunteers 50 and older.
February Social
Our February social event at the RSVP/Community Service Society was a great success! Members enjoyed an opportunity to socialize and a presentation by author, speaker and career transition management coach Renee Lee Rosenberg.
What Does Your Future Hold?
Attendees gained valuable insights at our Explore Your Future workshop series hosted by Coming of Age partner Retired and Senior Volunteer Program.
Participants taking a "seventh inning stretch".
Coming of Age NYC Networking Social
On September 20, 2012, COA NYC members socialized at our first Coming of Age NYC Networking Social. Attendees also met representatives from the various nonprofit agencies that make up Coming of Age NYC, and heard from our presenter for the evening – Jeri Sedlar, co-author of "Don't Retire, Rewire!"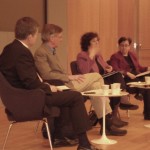 Effective Employment Strategies for Those 50+
On April 18, 2012 at the New York Public Library, a panel of experts shared essential information for job seekers:
Today's Digital Job Search: Online Postings, Applications, and Social Networking Strategies

Crafting a Winning Resume

The Interview: How to Handle the Really Tough Questions

Key Tools and Resources: NYPL's Job Search Central and Other Supports Everyone Should Know About
13 JOB SEARCH SUGGESTIONS OVER 50
Featured Speakers Renee Lee Rosenberg, career transition expert and author of "Achieving the Good Life After 50" Renée Lee Rosenberg, MA, LMHC, Certified Five O'Clock Club Career Coach, Author, Speaker, Trainer, Facilitator, with over 20 years' experience helping individuals: achieve positive career outcomes; cope with workplace stress; handle retirement issues. Her eclectic, results-driven creative approach assists individuals on all levels. Renée's media appearances include: MSNBC, ABC Eyewitness News, and NY1. Interviews have appeared in: LA Times, Health and Wellness Magazine, AM NY, Washington Times, Chicago Times, NY Post, US News and World Report, Forbes.com, and Fox.com. Published articles include: "Achieving Success with Positive Thinking", "Personality and Career Development", "The Emotional Roller Coaster of Retirement and Care Giving." Renée facilitates two career groups, maintains a private practice in NYC, and has a virtual phone practice. Her book Achieving The Good Life After 50: Tools and Resources for Making it Happen has helped many to navigate the retirement roller coaster. Read articles by Renee Lee Rosenberg by clicking the links below:
"Too Old to Get a New Job? Think Again! Older Workers Rock!
"Making Full Use of Older Workers: Overcoming Illegal, Illogical and Irresponsible Policy"
Madeleine Cohen, Assistant Director of the NYPL's Science, Industry and Business Library (SIBL) Madeleine Cohen has an MLS from Queens College, CUNY, and an M.A. in Liberal Studies from the CUNY Graduate Center. She has worked for The New York Public Library for more than 20 years, in a variety of positions, including head of processing, head of information services, and her current position as assistant director of the Science, Industry and Business Library (SIBL). As assistant director, she helps manage a variety of business services, programs, electronic resources, and technology. The business library has developed services focused in several areas including Job Search Central, Small Business Services, and Financial Literacy Central. Madeleine also works with small business groups, speaks at library and business events, and instructs in SIBL's training programs.
Win Sheffield, career coach in private practice in New York Win Sheffield offers strategies and guidance to support his clients to take their work to the next level or establish new careers. He coaches clients in delivering their message, runs workshops and delivers talks to many industry and alumni groups. His background includes Citibank, J.P. Morgan and PricewaterhouseCoopers in strategy development and management consulting. He has an M.B.A. from Boston University and an undergraduate degree from Kenyon College. He has studied counseling at General Seminary and Myers-Briggs at the Jung Institute. For further information and to speak with Win, please e-mail: WinSheffield@WinSheffield.com Please see details of upcoming talks at www.WinSheffield.com. You can also download Win Sheffield's "Elevator Pitch Worksheet".
In Search of Purpose, Passion and a Paycheck: Finding Work That Matters in the Second Half of Life
On June 29, 2011, at the New York Public Library, a standing room only crowd of over 200 came to hear from people in their 50s, 60s and beyond who've transitioned to social purpose careers. The presenters spoke on how to position yourself for a meaningful encore career. Speakers included representatives from Coming of Age: NYC and several inspiring Purpose Prize winners who, in their encore careers, are creating new ways to solve tough social problems.
The moderator was Suzanne Braun Levine, a Civic Ventures board member, founding editor of Ms. magazine, and author of Women in Second Adulthood and Fifty Is The New Fifty. This special presentation was co-sponsored by: The Encore Careers campaign and The Purpose Prize are initiatives of Civic Ventures, a think tank on boomers, work and social purpose. Find out more at www.encore.org. Coming of Age: NYC is a new establishment of a national initiative designed to help individuals 50+ connect and contribute to their communities and to build the capacity of organizations to utilize the skills, passions, and interests of people 50+ to further their mission and revitalize communities. Special thanks to The S. D. Bechtel, Jr. Foundation for underwriting this event.