Our Stories
"Our Stories" spotlights 50+ citizens of New York City who are making outstanding contributions to our community.  If you have someone you'd like to feature on our Website, please send a short bio and picture to info@comingofagenyc.org.
COA NYC Says Farewell and Many, Many Thanks to Outgoing Coming of Age National Director Dick Goldberg
PHILADELPHIA (WPVI) — In this week's "Art of Aging" report, Lisa Thomas-Laury has the story of how one man reinvented himself by helping other seniors do the same.After a rewarding career writing for TV, films and the theater, Dick Goldberg was ready to retire. But then he saw an ad that would change his life."I saw an ad that said, "Get baby boomers in Philadelphia to volunteer for nonprofits," said Goldberg.That's how he became director of a non-profit called Coming of Age."We help people over the age of 50 figure out what their next steps are going to be in their lives," added Goldberg.The organization also teaches nonprofits how to engage older adults as volunteers and helps connect seniors to those opportunities."We're now in 15 cities across the country and it's really been incredibly gratifying," said Goldberg.Both for him and the seniors he serves."I've seen so many people who have gone back to something they wanted to do in their youths or when they were young adults and find that now they have a little more time to engage in that and they're finding it incredibly satisfying because it's a dream that they deferred and now they're able to catch up with it," said Goldberg.Whether it's creating art, teaching or learning something new, there are new frontiers out there.
COA NYC Partner JASA's Spring 2014 Volunteer Spotlight is on Mike Stetsky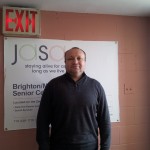 Mike Stetsky has been a volunteer at the JASA Manhattan Beach Senior Center since June of 2013. You can find him at the Center four days each week, teaching the computer class and assisting in the Center's office. An immigrant from Ukraine, Mike found himself wondering why many older adults "were not technologically savvy," and took the initiative to apply his skills and experience through volunteering. "Over the year Michael has surprised us with his enthusiasm," says Anna Bella, Project Director for the Center. "His vast knowledge and willingness to share have been a great asset at the Center."
For his part, Mike tells us "I have grown very fond of this Center. Volunteering here gives me the opportunity to use my skills and watch the seniors grow with knowl-edge. I enjoy helping them. It gives me great pleasure."
Thanks to Mike for all his hard work!
COA NYC Partner JASA's Fall 2013 Volunteer Spotlight is on Maddie Gair

The needs of JASA's central office can vary on a near-daily basis. On a given day, we may need help with mailings, research, preparing for a conference, and any number of tasks. Whatever is needed, we know that we can count on Maddie to donate her time and energy.
Maddie has been volunteering with JASA for three years. In addition to helping with administrative work in the Volunteer Services department, Maddie is consistently eager to volunteer for more. We have relied on her to fill a variety of roles at JASA's special events, such as our Volunteer Ventures Expo and Elder Abuse Conference. She has signed up to operate registration tables, distribute information about JASA , greet attendees and much more. We've been consistently able to count on Maddie whenever necessary.
In addition to the hard work she puts in, Maddie brightens the office whenever she arrives on Thursday mornings. Her cheer and eagerness to help are infectious, and our staff looks forward to her time in the office. Between her dedication to JASA and her winning attitude, Maddie Gair is an invaluable part of JASA's programs. We are grateful to have her as part of the JASA family!
SuperStar Volunteer Stuart Singer
After retiring from a rewarding job as a counselor to high school students in a special education program, Stuart occupied his time in the great playground of New York City — he spent time visiting museums and galleries and auction houses; he rode his bike through Central Park; but, after two years, Stuart realized that he needed something more — an inner feeling of satisfaction that comes from helping others.
Stuart did explore several volunteer opportunities until he found his match. He is currently volunteering with the Community Health Advocates (CHA), a program which is part of the Community Service Society (CSS). This program offers a telephone help line which assists people who cannot afford health care and people who have health insurance but need help appealing decisions made by their health carriers.
He also volunteers at two programs run by RSVP, one of the partners in Coming of Age NYC. The RSVP Emergency Preparedness Speakers Bureau is a program which gives him the opportunity to help others prepare for unforeseen disasters. In the RSVP Ambassador program, Stuart can share with others the great satisfaction one can obtain from volunteering.
And, finally, Stuart just completed not one, but two, extensive, intensive Coming of Age NYC Training sessions. He is now fully trained to present the wonderful and informative Coming of Age workshops here in New York – yet another assignment to add to Stuart's impressive Super Volunteer resume!
Stuart also has some advice for those who have not yet discovered the immense joy and satisfaction one can get from volunteering: "Think about what you want in your life and see if becoming a volunteer can help you reach those goals. You might just be surprised at how much volunteering can give to you".
CSS, RSVP and Coming of Age NYC are extremely lucky that Stuart is one of our volunteers. His dedication to serve and his and compassion for New Yorkers speaks volumes about what a kind, generous person he is. We are happy to shine an extra-bright spotlight on him this month!
Many thanks to Stuart during this season of giving thanks and all year long…