JUNE 2017 NETWORKING SOCIAL
Posted on June 23, 2017 by Coming of Age in Past Events.

Featuring Speaker & Author of This Chair Rocks: ASHTON APPLEWHITE!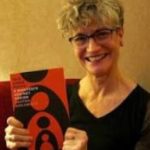 Dynamic author, speaker, and advocate addressed "one of the most persistent biases of our day (ageism) with originality, verve and humor" (quotes Marc Freedman, CEO of Encore.org). In 2016 she earned PBS' Next Avenue's annual list of 50 Influencers in Aging as its Influencer of the Year. And you'll want to read her vibrant, energetic, fact-filled book: This Chair Rocks, found on her website of the same name. Click here to view the entire conversation with Ashton Applewhite.