'Aging is not lost youth but a new stage of opportunity and strength.' – Betty Friedan
'What is it you plan to do with your one wild and precious life?' – Mary Oliver
Coming of Age NYC's signature workshop, Explore Your Future, engages participants in an exceptional, interactive four-module workshop series that is designed to begin the process and planning of answering this critical question.
As a leader in advancing the positive aging movement, Coming of Age NYC builds communities of New Yorkers 50 + who are determined to live life with passion and purpose. Explore Your Future engages participants in rigorous dialogue, poses powerful self-reflective questions, and facilitates transformational change. Participants take away a concrete action plan and a community of peers embarking on a similar journey that support and challenge each other to meet their goals.
In early December, Coming of Age NYC, gathered its esteemed cohort of facilitators to discuss updates and revisions to strengthen Explore Your Future and its impact on New Yorkers in all five boroughs.   Our meeting generated exciting and innovative ideas that include the latest research on combating ageism; advocating for positive aging, and creating follow-up peer connections to sustain the momentum gained from the workshop series.
To learn more about Explore Your Future and/or to schedule a 60-minute 'preview' of its content, contact us at info@comingofagenyc.org.
WE CAN HELP YOU DISCOVER, UNDERSTAND AND PLAN FOR THE NEXT STAGE OF YOUR LIFE 
Explore Your Future is a series of interactive workshops that help individuals who are 50 and older envision the next phase of life including pursuing civic involvement, lifelong learning or encore careers.
Session Topics:
What Has Influenced Me? Participants reflect on what has meant most to them in their lives and brought the greatest fulfillment while they explore people and events that have influenced them, their lives' themes, patterns and strengths.
Who Am I Now? Through self-discovery and assessment, participants identify where they are in their lives and what talents they have. They explore values and motivators, passions and interests, individual gifts, strengths and aspirations.
How Can I Realize My Dreams? Once participants gain more self-awareness, they address practical ways to align their values, passions and gifts by learning creative techniques for generating life options, strategies to fuse passion, purpose and personal strengths, and ways to imagine potential.
How Do I Create an Engaged Life? Participants develop individual action plans based on specific, measurable, attainable, realistic and timely (SMART) goals; real and perceived challenges; and resources to help them reach their goals.
Please plan to attend all 4 sessions of the series. All participants will receive a comprehensive workshop manual. Refreshments will be provided each day. Class size is limited, so please reserve your place today!
We look forward to seeing you at Explore Your Future!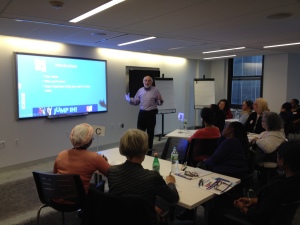 Stuart Singer presenting at the November/December 2014 Explore Your Future Series at the Department for the Aging.
(Below) Photos of the Fall 2013 series at the Stanley Isaacs Neighborhood Center on the Upper East Side.