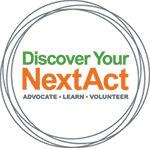 Posted on February 6, 2018 by Coming of Age in Upcoming Events.

JASA's Spring 2018 NextAct programs are designed for adults 55+ who want to explore interesting topics, meet peers, become activists and make an impact in their communities. Courses are held on "Sundays at JASA" at John Jay College. Open House: Sunday, February 25, 10:00 am – 2:00 pm One-Day Pass Event: Sunday, March 18, 9:00 […]

No Comments. Continue Reading...