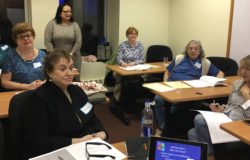 Posted on December 20, 2016 by Coming of Age in Past Events.

Facilitator Stuart Singer kicked off the last of our workshop series for 2016. Participants enjoyed our new "digs" at 65 Wall Street.  "I liked [the facilitator's] energy and enthusiasm — a good role model for being engaged in life who showed clarity of thought and caring of participants, and was informative and wonderful," said a participant. PSS Deputy […]

No Comments. Continue Reading...