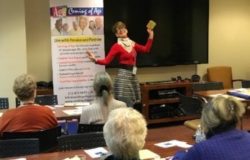 Posted on January 30, 2018 by Coming of Age in Past Events.

January 2018 Networking Social: A HEALTHY BRAIN IS A HAPPY BRAIN!   The audience at Coming of Age NYC's January Networking Social on Brain Plasticity January 30 was treated to an overview of how the brain constantly changes (it's a mistaken notion that "you can't teach an old dogs new tricks!") and how we continue to learn new things […]

No Comments. Continue Reading...